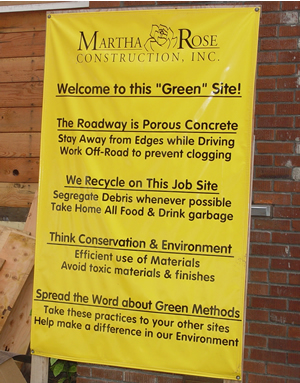 Martha Rose Construction leads the home building industry by building Green High-Performance Homes. In March of 2007, MRC became a partner with the Department of Energy and the Building America program. Their goal is to help builders achieve a zero-net energy use home that is competitively priced in the market place.
As of April 2008 MRC has certified 19 homes at the rigorous 5-Star level of the Master Builder's Built Green program. The last 3 of these homes achieved an Energy (E)-Rating of 33, getting close to the 0 that is the goal set forth by the Building America team. Our homes are certified by an independent 3rd party verifier.
MRC stays current with new technologies and ideas with a multi-faceted approach. Independent research, technical discussions with subs, suppliers and engineers and attendance at conferences are a few of the ways we keep our edge.
Here are some of the classes and conferences that Martha attends.
Master Builders of King and Snohomish County Annual Built Green Conferences from 2003 on
Affordable Comfort Inc. 2009, 2007 conference
National Association of Home Builders, NAHB 2008 International Builders Show
US GreenBuilding Council, 2007 GreenBuild Conference
Northwest Builders Show 2008
American Lung Association: Healthy Home Class 2008
Seattle Public Utilities Workshop: Water Efficiency, Driving Sustainable Building Sites 2008
NW Ecobuilding Guild continuing education classes
JLC Live Pacific Northwest Trade Show 2008
Northwest Environmental Training Center: Integral Sustainability Workshop, 2009
American Rainwater Catchment Systems Association, 2005 National Conference
City of Seattle, Transformation Lecture Series, Ongoing
MRC is actively involved with on-going education, teaching groups about GreenBuilding techniques and conservation through private classes and workshops. Contact us about customized training/workshops.
Our instructional DVD, "Building the X-treme Green Home, On Tour with Martha Rose" is now available. This overview of our green construction practices will aid builders, homebuyers, home sales professionals, students and others to understand the basics of a 5-star green home. Please contact us about quantities and pricing.
In June 2008, Discovery Channel launched their show, "Renovation Nation" and featured 2 of our homes on the Planet Green station. The host, Steve Thomas, and viewers were treated to some our home's great features.