Building America

Building America is a private/public partnership that develops energy solutions for new and existing homes. The Building America project combines the knowledge and resources of industry leaders with the U.S. Department of Energy's technical capabilities. Together, they act as a catalyst for change in the home-building industry.
In February of 2008, Building America launched the "Builder Challenge", a program that enlists builders to work toward the goal of zero energy homes by 2020. They also rolled out the "E-Scale", an easy to read chart to help homebuyers quickly identify the energy efficiency of a new home. It is being compared to the mpg stickers found on new cars.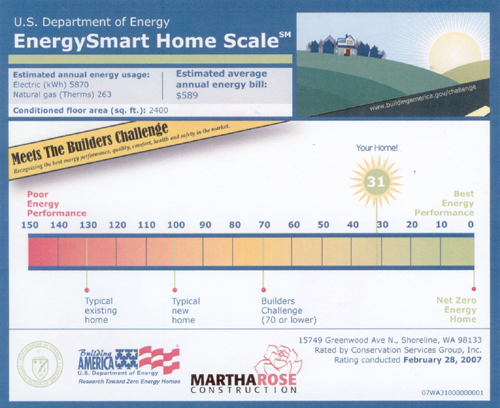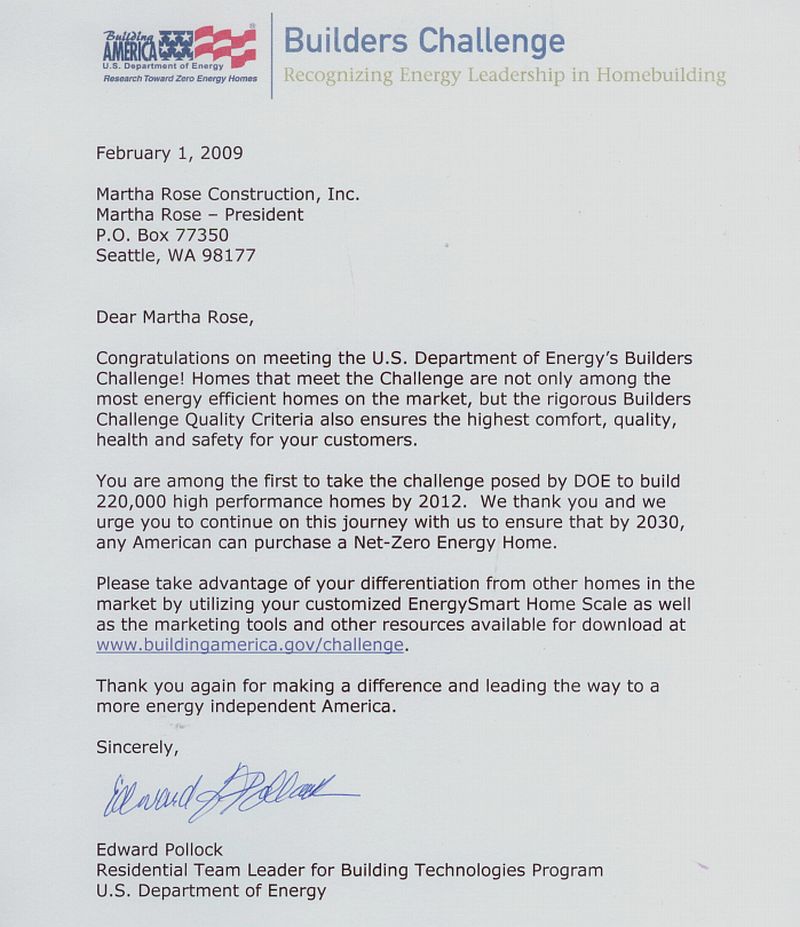 The Northwest EcoBuilding Guild

The Northwest EcoBuilding Guild is a 501(c)(3) community of builders, designers, suppliers, homeowners, and partners concerned with ecological building in the Pacific Northwest.

The Guild was founded in 1993 by a small group of professionals already incorporating green building ideas into their practices. They formed the Guild in order to network, learn and exchange ideas related to their areas of expertise. The Guild has now grown to seven chapters serving the diverse bioregions of Washington, Oregon, Idaho and British Columbia.
Built Green

"Built Green" is a program that was implemented by the Master Builders Association to encourage builders to construct and renovate homes in a more environmentally compatible way. It is a holistic approach that covers design, site work, material choices, energy conservation and education of the workers and consumers.

Martha Rose Construction is a member of this program. Our goal is to provide homes that:

• Protect the homeowner's health
• Provide high energy efficiency and comfort
• Have less impact on the environment.

In our homes, you will find that decisions have been made to provide a healthier environment. We use natural building materials such as stone, wood, and wool fiber. All surfaces are low VOC, with no, or minimal, off-gassing. Cabinets, shelving, and insulation are all non-formaldehyde. We install high quality fans and windows. Our homes are constructed to prevent moisture problems.

Energy upgrades that we provide include increased insulation, high efficiency heating systems and appliances, and Energy Star windows, resulting in lower operating costs for the owner. A passive solar atrium is often part of the home. Water saving dual-flush toilets, Energy Star fluorescents and dimmable halogen lights are also used.

Many materials are grown and produced locally, such as kiln-dried pre-primed cedar siding and wood doors. Bamboo is a sustainable yield crop, and is used primarily for flooring. 

Metal products such as siding and railings have been recycled from scrap and Richlite, a countertop material, is made from recycled paper. These and other finishes are chosen because they are durable. Other commercially rated products that we use include porcelain floor tiles, hardwood, wool carpet and heavy padding, brick, stone and concrete.

In addition to making sound environmental choices in choosing finishes, we also recycle at least 80% of the jobsite waste. We encourage the home buyer to do the same by creating a space in or near the kitchen for a recycling center.

To protect our Puget Sound, the way we landscape has changed. Manure compost and bone meal is worked into the soil for better plant health and water retention. Thickly mulched plants need little or no water once established. Turf is seldom used. The goal is to get closer to a forested condition with no water run-off.

Martha Rose Construction is committed to "Built Green" practices including methods not named here. We work with buyers who want custom "Built Green" homes.
Energy Star

The ENERGY STAR® Homes Northwest program of the Northwest Energy Efficiency Alliance brings the U.S. Environmental Protection Agency's nationally recognized and trusted symbol for energy efficiency to the Northwest.

Martha Rose Construction specializes in building energy efficient homes and is proud to offer homes that have earned the ENERGY STAR label.

ENERGY STAR qualified homes are at least 15% more energy efficient than typical new homes in Washington. These homes feature high-efficiency heating and cooling systems, sealed ductwork, higher levels of insulation, and ENERGY STAR qualified windows, lighting and appliances.

Each of our ENERGY STAR homes is verified by a third party and certified by the State to ensure that it meets these EPA energy performance standards.

By offering ENERGY STAR qualified homes, we provide homes with many benefits, including:

 · Reduced energy demands and lower energy bills - month after month.
 · More comfortable indoor living environment.
 · Peace of mind from third-party performance testing, and certification.
 · Homes with less impact on the environment. In the US, residential energy use is one of the largest sources of greenhouse gasses affecting our climate.